Bronze Medallion Course Content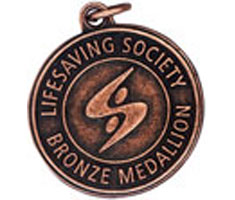 Bronze Medallion is a 15 hour course that prepares the candidates for aquatic emergency situations. Candidates will train both physically and mentally in order to critically think and put certain lifesaving skills to use in order to rescue themselves or others in aquatic emergencies. The Bronze Medallion course introduces the four pillars of water rescue: judgment, knowledge, skill, fitness. By mastering these four skills, candidates will be able to make smart choices in and around bodies of water. Candidates who are over the age of 13 (or hold Bronze Star) can take the Bronze Medallion course. Bronze Medallion is the pre-requisite to Bronze Cross. Upon succesful completion of this award, candidates will receive a medallion, a badge, as well as temporary certification (until the permanent certification is mailed to them). This award is considered current for 2 years (24 months) but candidates do not generally need to recertify it as prerequisite courses do not need to be current to take the next level.
Prerequisite: Candidates must be at least 13 years of age or hold Bronze Star. Bronze Star does not need to be current in order for candidates to partake in the Bronze Medallion course.
Who can teach Bronze Medallion?
Lifesaving Instructors may teach and evaluate most items of the Bronze Medallion but only Bronze Examiners can certifiy candidates.
Required Text Books: Canadian Lifesaving Manual
---

Bronze Medallion Course Content
The content of the Bronze Medallion course are divided into the 4 categories of knowledge, skill, fitness, and judgment.
Knowledge
1. Candidates should be able to demonstrate that they understand what Lifesaving Society does as an organization and should be aware of further development opportunities through the society.
2. Candidates must understand the concept and importance of the Drowning Chain of Survival.
3. Candidates should be familiar with the rescue process and comfortable with using the Ladder Approach and the Rescuer's Checklist. Furthermore candidate's are expected to know when to use them to help with decision making.
4. Candidates should be able to explain the dangers of cold-water immersion and the additional risk involved in rescues in cold water.

Skill Items
5. Self-Rescue:
Candidates will experience a disorienting entry into water while wearing long pants and shirts. They will then proceed to remove their clothes and inflate them to use as a buoyant device and huddle for 1-minute with other candidates.
Candidates demonstrate self-rescue techniques in cold-water and moving water.
6. Swimming and lifesaving strokes:
Swim 25m or yd of front crawl, back crawl, and breaststroke.
Swim 25m or yd of head-up front crawl, and head-up breaststroke.
Swim 25m or yd using whip kick, eggbeater, scissor kick or inversted scisor kick.
7. Candidates are required to be able to recognize as well as demonstrate the characteristics of a weak swimmer, non-swimmer, unconscious victim, and an injured victim
8. Candidates will learn and demonstrate at least three different entries with a buoyant aid and three entries without any aids. Candidates will also be taught to remove conscious and unconscious victims with the help of an untrained bystander.
9. Candidates will be introduced to "ready position" and learn to scull in different directions for 60 seconds. Furthermore, candidates will learn various defence techniques from different directions.
10. Candidates will demonstrate carrying with and without the use of aids while towing passive victims for 15m.
11. Candidates will learn how to effectively search shallow waters.
11. Candidates will be taught to recover an unconscious submerged victim and carry them to the point of safety no more than 5m away.
12. Candidates will perform CPR on a drowning adult, child, and infant victim and will be taught to handle different complications during resuscitation.

Fitness Items
13. Rescue Drill: Swim head-up for 25m or yd towards a passive victim located on top of the water and carry them for 25m or yd.
14. Endurance Challenge: Candidates are required to be able to swim 400m within 12 minutes (11 minutes if swimming 400 yds)

Judgment
15. Candidates will be required to identify and remove possible hazards in an aquatic environment.
16. Rescue 1: Starting on land, candidates are required to perform a low-risk, non-contact rescue of a swimmer located 10m away.
17. Rescue 2: Candidates are required to perform a non-contact rescue in an open water environment using a buoyant aid. This rescue required 20m or yd approach and a 20m or yd tow back to safety. Candidates will then be required to perform appropriate follow-up treatment
18. Rescue 3: Perform a rescue of a non-breathing victim that is located at the surface of water in the deep end, 5m away from a point of safety.