How to Become a Lifeguard and Swim Instructor in Toronto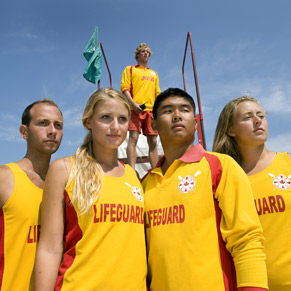 Lifeguarding Academy is a private training institution where every body can get certified as a lifeguard or swim instructor. At Lifeguarding Academy, our instructors are selected not only based on years of experience, but also on how they interact and prepare candidates for success.
Our expert instructors ensure that every single participant gets the individual attention that they require in order to be prepared for real-life incidents.
Lifeguarding Academy offers a complete range of first aid, lifeguarding, and instructing training courses. Whether your goal is to become a lifeguard or a swim instructor, Lifeguarding Academy will be happy to recommend the appropriate course depending on your goals. Candidates who get certified through Lifeguarding Academy become accredited through the Royal Lifesaving Society and are able to work all throughout Canada as well as internationally in the countries part of the commonwealth.
Candidates who are interested in becoming a lifeguard need to take the below courses in the order that they are listed as each course is the prerequisite to the next course.
In order to be certified as a Swim and Lifesaving Instructor, candidates are required to take the following courses in order. While Swim and Lifesaving Instructor courses can be taken separately, most employers require you to have both certifications. Candidates can take the Swim or the Lifesaving Instructor in any order.
Bronze Medallion (must be at least 13 years old or hold Bronze Star)
Swim & Lifesving Instructor Combo (must be at least 15 years old)
Candidates who already hold their Lifesving Instructor certification and are interested in moving further up the leadership ladder can proceed to take this First Aid Instructor certification (FAI) and their National Lifeguard Instructor certification (NLI). The First Aid Instructor and the National Lifeguard Instructor certifications allow candidates to teach all levels of First Aid as well as the National Lifeguard program offered through the Lifesaving Society. Candidates who have taken the examiner course can proceed to seek apprenticeship opportunities for streams that they hold the instructor certification for. Apprenticeships must be done with current examiner mentors.
---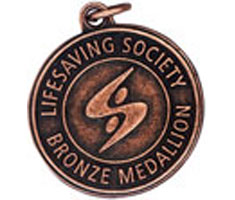 The Bronze Medallion is often the first course that candidates take if they are at least 13 years of age. This course introduces lifesaving skills in 4 different categories of water-rescue: judgement, knowledge, skill, and fitness. During the Bronze Medallion course, candidates build on their pre-existing swimming skills as well as learn new techniques to save themselves and others in risky aquatic situations. Bronze Medallion can come bundled with Emergency First Aid and CPR-B which teaches candidates how to recognize and treat circulatory and respiratory emergencies such as Heart Attack, Angina, Stroke, Asthma, and Hyper Ventilation. Interested in seeing what is involved in the Bronze Medallion training? Click here.

---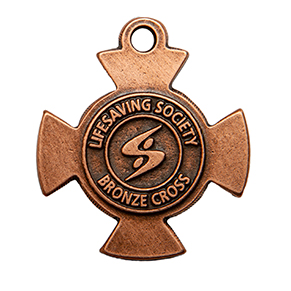 The Bronze Cross course is designed to improve on candidate's pre-existing skills and prepare them for the National Lifeguard course training. Bronze Cross is a mandatory pre-requisite course for the Lifesaving Society National Lifeguard and the Lifesving Society Swim Instructor's course as it includes advanced training that will be the building blocks of lifesving skills. While there is no minimum age to take the Bronze Cross course, Bronze Medallion and Standard First Aid with CPR-C (or Emergency First Aid with CPR-B) are mandatory pre-requisites.
---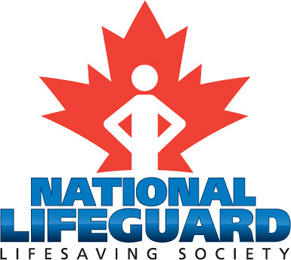 The National Lifeguard or NL (formerly also known as NLS) course is the certification that all lifeguards are required to have. This course is designed to help candidates develop critical thinking as well as physical skills that would allow them to react quickly and efficiently when responding to emergencies. Just like Bronze Medallion and Cross, this course builds on the four pillars of lifesaving: knowledge, judgement, skill, and fitness. In addition to team-work and communication skills, National Lifeguard candidates will be extensively trained to stay calm while handling various situations that they can come across in the real-world. A few examples of scenarios that a National Lifeguard candidate can expect to come across are: spinal injured victims, active and passive drowning victims, seizure victims, missing children (and many more). Minimum 15 years of age, Bronze Cross and Standard First Aid with CPR-C are the pre-requisites to the National Lifeguard course and must be completed before starting the Lifesaving Society National Lifeguard course.
---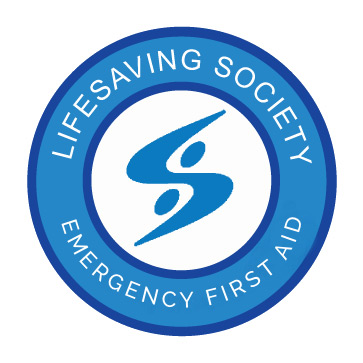 Lifesaving Society's Emergency First Aid is recognized by Ontario's Workplace Safety & Insurance Board and is designed to arm the public with the necessary knowledge and skill to treat most general emergency situations such as Heart Attack, Strokes, Asthma, and Burns. Emergency First Aid always comes with CPR-B which teaches candidates how to perform a victim assessment and CPR as well as how to treat choking victims.
---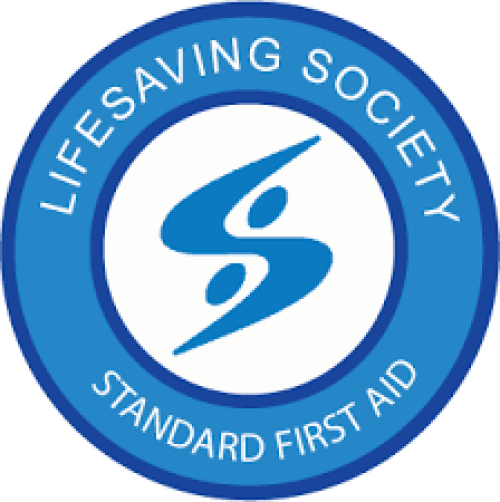 Lifesaving Society's Standard First Aid course is a 16-hour, WSIB approved first aid training that goes beyond the Emergency First Aid items. This course is designed to prepare candidates to handle every-day medical emergencies such as broken bones, diabetic attacks, seizures, spinal injuries, and much more. This course is also the pre-requisite to the Lifesaving Society's National Lifeguard course and must be taken prior to a the National Lifeguard course's exam. The Standard First Aid certification is always paird with CPR-C certification which teaches candidates to perform a victim assessment, CPR and treatment of choking victims. The Lifesaving Society's first aid programs are not restricted to aquatic candidates; other individuals such as camp counselors, fitness advisors, and medical professionals can make use of the Lifesaving Society's first aid awards.
---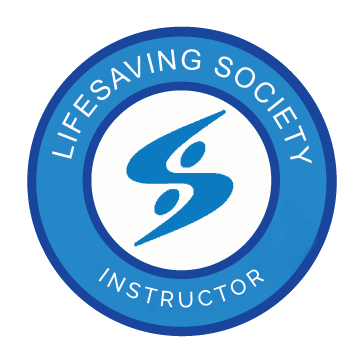 The Lifesaving Society Swim Instructor course teaches and certifies new instructors to teach and evaluate swimming strokes and other aquatic skills based on the Lifesaving Society Swim for Life program. In addition to learning various teaching methods and planning skills, candidates are also taught different stroke development techniques and drills.
---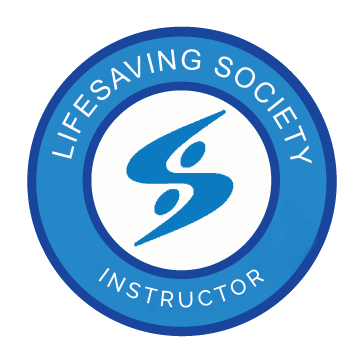 By completing the Lifesaving Instructor course, candidates become certified to teach (but not examine) the Lifesaving Society's Canadian Swim Patrol, Bronze Star, Bronze Medallion, Bronze Cross, Distinction, as well as Emergency First Aid and CPR-A, CPR-B, and CPR-C programs. Most major employers such as City of Toronto and City of Vaughan require candidates to have both their swim and lifesaving instructor in addition to their National Lifeguard certifications.

---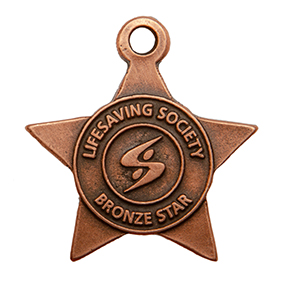 Bronze Star is designed to prepare younger swimmers for Bronze Medallion. In this aquatic course, participants learn and improve their lifesaving focused aquatic techniques such as lifesaving kicks, going to the bottom of the pool, as well as their problem-solving and decision-making. In addition to swimming skills, candidates also learn basic CPR and some first aid. The Bronze Star course is only required if the candidate is under 13 years old. Candidates that are over the age of 13 can skip this level and start with Bronze Medallion.
Lifeguarding Academy Offers All Programs
---