Shallow Water Blackout
Posted in Aquatic Articles, on November 28, 2022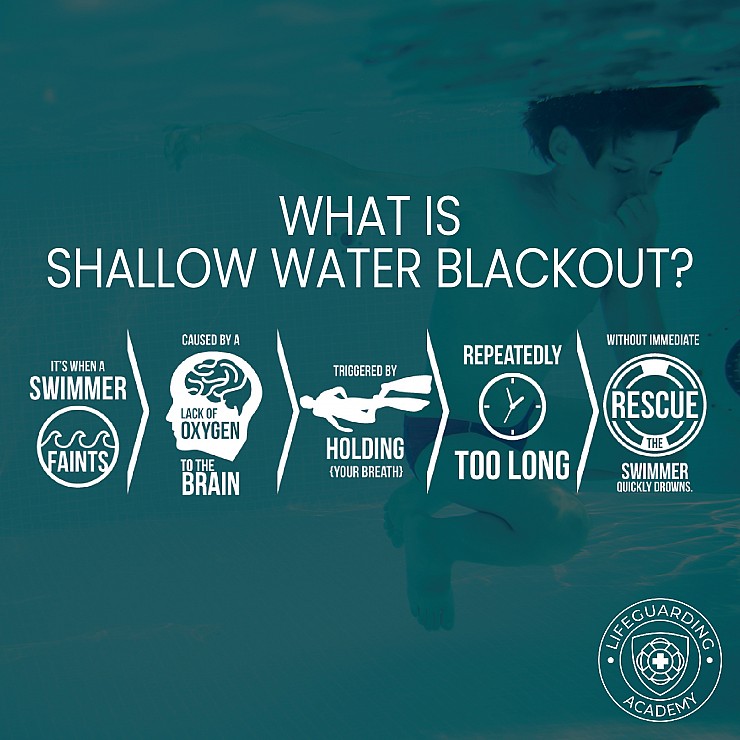 Diagram by Shallow Water Blackout Prevention
Contrary to what the name suggests, shallow water black out can happen in any depth of water. It is thought to be the #1 cause of drownings among competent swimmers. Of the 140,000 drowning deaths worldwide, shallow water blackout is responsible for approximately 20%1.
Shallow water black out results from cerebral hypoxia; a lack of oxygen getting to the brain. There are a few risk factors for this including hyperventilating. Hyperventilation can be caused purposefully or accidentally. Hyperventilation causes the level of carbon dioxide to lower, and delay the swimmers urge to breathe. This can be extremely dangerous as once a victim passes out in water, death can occur quickly without intervention.
Endurance athletes may be instructed by their coaches to hyperventilate in order to breath less during competition. Alternatively, overexertion during a swimming workout can lead to increased respiration and eventual in-water unconsciousness.
Shallow water blackout is a deadly phenomenon that can be prevented, and this is why public education is so important. If you would like to educate yourself on more important topics surrounding water safety, check out the rest of our blog posts here.
---
1Swimming Canada, Shallow Water Blackout (SWB), sited November 28th, 2022